Integrated Audio Solutions for Broadcast and All Other Sound Playback Applications




SpotOn Software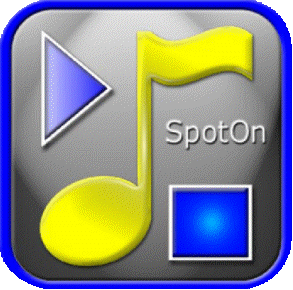 Click on the logo above for full product information
SpotOn, written by David Markie of Markie Enterprises and distributed by Sigma Broadcast,
is a truly revolutionary tool and is the fastest, most reliable and flexible real time audio playback method available today.
It allows a computer to become a multi-faceted "Cart Machine On Steroids" playback device. If you can think of a playback challenge,
SpotOn can be programmed to accomplish it. Read our About Us page to see some of the shows SpotOn has done recently.
SpotOn is a PC based application that allows you to playout up to 320 cues of audio in any one session
with the ability to have unlimited sessions. Using analogue and digital multi-output professional sound interfaces SpotOn can play
multiple cues out of different outputs at the same time with fade in and fade out plus numerous other features.
Touch screen triggering, GPI and MIDI triggers are all possible, and now there is even an option to
follow SMPTE time code from a video switcher's RS422 port for real time SFX.
SpotOn in use - Family Feud, Ellen De Generes, The Late, Late Show With Craig Ferguson
America's Got Talent, Let's Make A Deal, Golden Globes
Copyright © CueLogic